Christina Sng is a poet, writer, and artist. Her work has been published in numerous print and online venues worldwide and garnered more than 70 awards and nominations, including the 2018 Jane Reichhold International Prize. She is the author of A Constellation of Songs (Origami Poems Project), Catku (Allegra Press), Elgin Chapbook Award nominees, An Assortment of Sky Things (Allegra Press) and Astropoetry (Alban Lake Publishing), and 2017 Bram Stoker Award® Winner, Elgin Book Award nominee, and one of LitReactor's Best Books of 2017, A Collection of Nightmares (Raw Dog Screaming Press).
~ ~ ~ ~ ~ ~ ~ ~ ~ ~ ~ ~
~ ~ ~ ~ ~ ~ ~ ~ ~ ~ ~ ~
AWARDS, REVIEWS, FEATURES, INTERVIEWS
24 May 2018: A COLLECTION OF NIGHTMARES will be exhibited at the Poets House in NYC, USA from June 28 to August 18.
20 May 2018: Over the moon to discover that my poem "Sand Under a Microscope" has won First Place in Angela Poetry Magazine's Monthly Lighthearted Poetry Contest! It's my first time winning a prize for a contemporary poem so I'm really excited!
15 May 2018: Elated to have a half-page feature by Olivia Ho in the Singapore Straits Times: Poet Christina Sng is the first Singaporean to win the Bram Stoker award!
10 May 2018: Wonderful 5-star review of A COLLECTION OF NIGHTMARES by Nicholas Diak on Goodreads.
7 May 2018: Elated that my haiku "giving spring" has been selected as Editor's Pick for the Spring 2018 edition of The Cicada's Cry!
giving spring
another chance
rescued cat
2 May 2018: Jennifer Crow reviews A COLLECTION OF NIGHTMARES:
"If you like your poetry dark--but also like it with a heart and soul--this is a great collection. I love how Christina Sng blends creepiness with human interaction. So many of the stories involve the links between family members, especially mothers and children. It captures, with remarkable emotional effect, the desire to protect in terrifying moments and the fear that only loving someone can bring to us."
1 May 2018: My haiku "the gravity" is featured in Sonic Boom's anthology the arithmetic of sparrows: Best of Paper Lanterns (vol. 1):
the gravity of disrespect drain flies
29 April 2018: Blown away by Christa Carmen's wonderful 5-star review of A COLLECTION OF NIGHTMARES on GoodReads:
"Christina Sng's Bram Stoker Award-winning collection could therefore not be more aptly named. Sng's work elicits the same hypnagogic surreality you've felt infusing your prone and vulnerable sleeping form during a particularly terrifying omnibus of nightmares."
24 April 2018: 3 of my 2018 Rhysling-nominated poems "Starlight", Moonlight in the Playground", and "Little Red" are featured in Erin Sweet Al-Mehairi's blog for National Poetry Month.
14 April 2018: My haiku "raining again" has won First Place in the Jane Reichhold International Prize! Many grateful thanks to the ukiaHaiku Committee and the contest judge, Michael Dylan Welch.
raining again
the soft tapping
of my cat's tail
Comments by the Judge: "One of the hallmarks of a good haiku is the immediate sense that we've had the same experience, or that we've seen the same thing, feeling the emotions that go along with that experience. The poem validates our own experience as it seeks to honor the everyday extra ordinariness of life. We've all seen the soft tapping of a cat's tail, and may wonder what the cat might be thinking. Perhaps the cat is thinking exactly what we might be thinking, wishing it would stop raining so we might go outside again to enjoy the outdoors. The fact that it's raining again tells us that the cat's patience is being tried, as is our own during a rainy season. But the poem also offers a moment of contentment. It's very likely that the cat is content after all, regardless of the weather, suggesting that we might want to be content as well, no matter how much it continues to rain."
11 April 2018: Catku has been reviewed in Italian by Luca Cenisi.
~ ~ ~ ~ ~ ~ ~ ~
LATEST RELEASES
24 May 2018: Proud to be a part of Nina D'Arcangela's Ladies of Horror Flash Project with my horror poem, "All the Monsters in the World"!
24 May 2018: On Haiku Windows:
protecting us only
from what's outside
storm window
23 May 2018: My painting "Waiting Together" is on the cover of Dreams & Nightmares 109!
This is the first time my art has made the cover of a print magazine and I am especially thrilled because my first two poems ever published were in Dreams & Nightmares 52.
My deepest and most grateful thanks to David C. Kopaska-Merkel for giving my work a home all these years.
Dreams and Nightmares 109 includes my fairy tale poem, "Rapunzel", and fantastic poems by F.J. Bergmann, Joshua Gage, Herb Kauderer, Deborah P Kolodji, John Reinhart, and many more.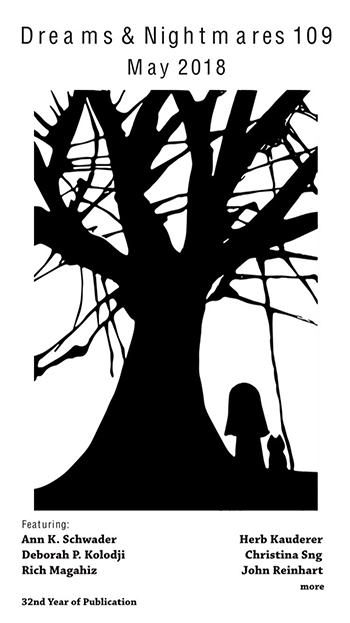 16 May 2018: Delighted to see my contributor copies of The Cicada's Cry, edited by the wonderful Joanne M Reinbold.
16 May 2018: 3 weeks of Haiku Windows:
window seat
a teddy bear
left behind
perched outside
the hospital window
a bird with all its limbs
seeing the world
through soap bubbles
first car wash
1 May 2018: "solitary journey" appears in otata #29.
solitary journey
of a leatherback hatchling
the space between stars
27 April 2018: Happy to be a part of the 2018 Earthrise Rolling Collaborative Haiku together with so many wonderful poet friends!
deep dive
into the rapids
kingfisher
25 April 2018: Conjuring up memories of the movie Sliding Doors in my haiku for this week's Haiku Windows:
spotting him
through the train window
the one who got away
24 April 2018: Thrilled to be featured in today's Haikuniverse:
cat fur
on the couch
one year later
23 April 2018: My poem "A Capacity for Violence" appears in The Ladies of Horror Picture-Prompt Writing Challenge!
18 April 2018: Happy to see my poem "first sight" featured in this week's Haiku Windows.
first sight
of her grandson
video chat
"Another example of what a difference this technology can make in our lives--it is much easier to connect with people, and communicate, than ever before, and this column could be considered another fine example of this as well..."
15 April 2018: In Chrysanthemum 23, my haiku:
another day
lost in what-ifs
death anniversary
4 April 2018: My haiku "all my dreams" appears in this week's Haiku Windows.
all my dreams
behind the envelope window
acceptance letter
3 April 2018: My black and white ink illustration "First Time on a Swing" appears in Star*Line 41.2.
2 April 2018: Happy to see my poem "Sunshine" in the children's science fiction magazine Spaceports and Spidersilk.
1 April 2018: My poem "The Girl Made of Electricity" appears in the limited chapbook I Don't Want to Play This Game Anymore.
1 April 2018: My haiku "spring wind" appears in Sharpening the Green Pencil: The Book of the 2018 Contest:
spring wind
a wall of ivy
waves to me
1 April 2018: Happy to be a part of John Martone's splendid journal, otata:
by all accounts
I should be dead
water bear
silent spring
another tumor
another day
correcting
my imperfect pitch
arrhythmia
~ ~ ~ ~ ~ ~ ~ ~
RECENT SALES AND ACCEPTANCES
24 May 2018: Scifaiku "silent orbit of stars", "just wanting", and "seeing stars" were sold to Scifaikuest.
24 May 2018: Scifaiku "last one through" was sold to Grievous Angel.
21 May 2018: Haiku "misty dawn" was accepted for the Spring 2018 issue of Wales Haiku Journal.
9 May 2018: Senryu "teenage years", "comet trail", and "withering rose" were accepted for the upcoming issue of Prune Juice.
1 May 2018: My 100-word stories "Luci" and "The Future Conquerers" will be appearing in Drabbledark: An Anthology of Dark Drabbles.
12 April 2018: Haiku "old song" was accepted for the upcoming issue of Frogpond.
5 April 2018: Scifaiku "in perfect health", "gentlest quiver", and "meteor shower" were sold to Scifaikuest for their August 2019 issue.
1 April 2018: Fairy tale poem "Grandmother Red" was sold to New Myths.
~ ~ ~ ~ ~ ~ ~ ~
For 2018 news, click here, 2017 news, click here, 2016 news, click here. For news between August 2014-December 2015, visit Archived News.