A Collection of Dreamscapes launched on April 16th! Order HERE!
~ ~ ~ ~ ~ ~ ~ ~ ~ ~ ~ ~
CONNECT:

SUPPORT:
KO-FI:
Grab me a Coffee! :D
SOCIETY6:
Order my art prints at Society6.
PATREON:
My Patreon page features sneak peeks at works-in-progress, behind-the-scenes thoughts on my work, poems, art, haiku, plus signed limited cards and postcard poems to collect via snail mail!
If you'd like to support me on Patreon, do stop by and drop me some coin. Tiers begin from $1!
~ ~ ~ ~ ~ ~ ~ ~ ~ ~ ~ ~
Last updated: 1 May 2020
~ ~ ~ ~ ~ ~ ~ ~ ~ ~ ~ ~
2017 Bram Stoker Award® Winner, 2018 Elgin Award nominee, and one of LitReactor's Best Books of 2017, A Collection of Nightmares (Raw Dog Screaming Press) is a poetic feast of sleeplessness and shadows, an exquisite exhibition of fear and things better left unsaid. Available from Amazon and Raw Dog Screaming Press.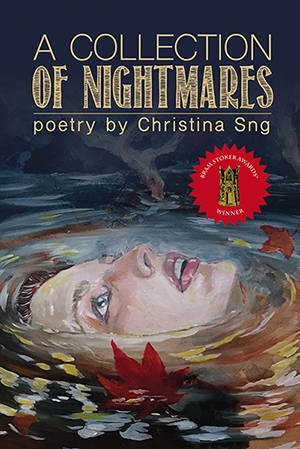 2018 Elgin Award runner-up Astropoetry (Alban Lake Publishing) celebrates the wonders and mysteries of space in scifaiku and lyrical prose. On sale from Amazon.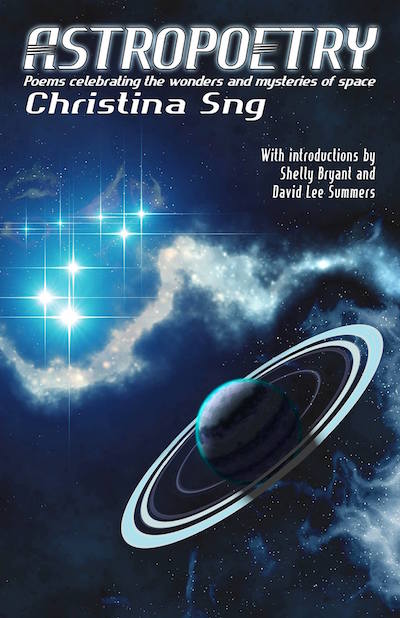 2017 Elgin Award nominee, An Assortment of Sky Things, is a poetic tour of the solar system and beyond in haiku and short poetry.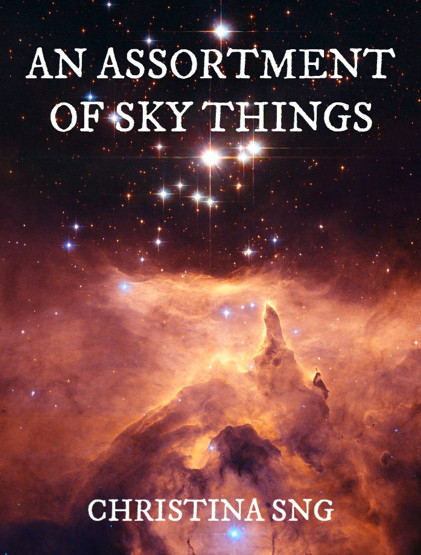 Catku takes us on a whimsical life journey between a cat and its human, a tale woven with 21 haiku and senryu based on my life with beloved cats. A must-have for all cat lovers.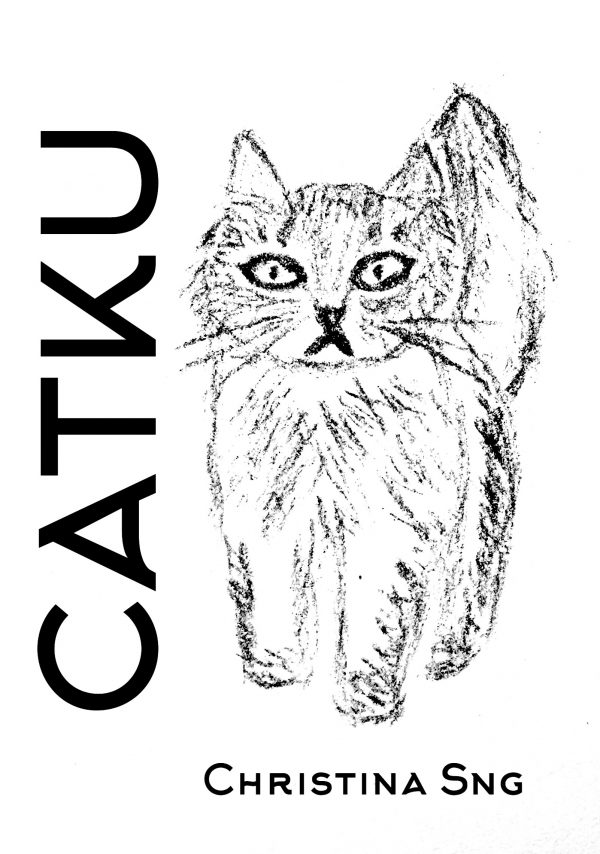 A Constellation of Songs, my first haiku collection, spans birth to death, illuminating the wonder and beauty of life in between. Available as a free PDF from the Origami Poems Project.
Dark Dreams is on sale as an eBook at Smashwords. The amazing cover is by Brian Hurtt, artist and co-creator of The Sixth Gun.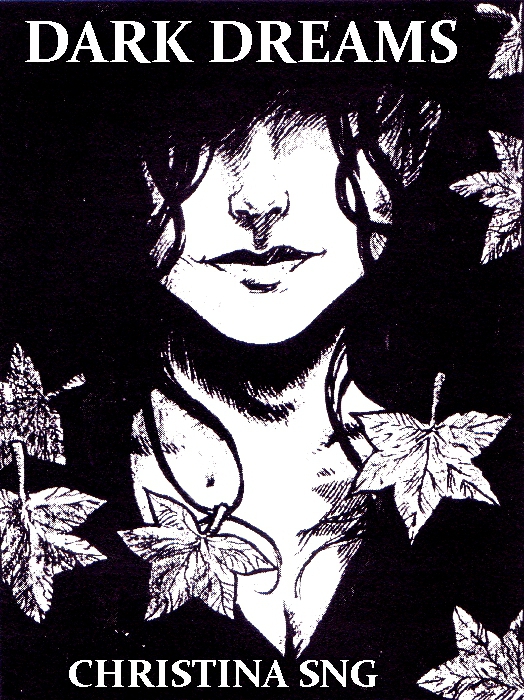 Christina Sng is the Bram Stoker Award-winning author of A Collection of Nightmares (Raw Dog Screaming Press, 2017), Elgin Award runner-up Astropoetry (Alban Lake Publishing, 2017), and A Collection of Dreamscapes (Raw Dog Screaming Press, 2020). Her poetry, fiction, and art have appeared in numerous venues worldwide, and her poems have garnered multiple nominations in the Rhysling Awards, the Dwarf Stars, the Elgin Awards, as well as honorable mentions in the Year's Best Fantasy and Horror, and the Best Horror of the Year.
~ ~ ~ ~ ~ ~ ~ ~ ~ ~ ~ ~
~ ~ ~ ~ ~ ~ ~ ~ ~ ~ ~ ~
AWARDS, REVIEWS, FEATURES, INTERVIEWS, APPEARANCES
16 April 2020: Happy Book Birthday to A COLLECTION OF DREAMSCAPES!!
We had a wonderful launch party online. I was incredibly honoured to be interviewed by poetry legend Linda Addison. It was truly one of the happiest days of my life.
Thank you to my publisher Raw Dog Screaming Press for organising this fantastic launch and for uploading the videos of my reading and the interview onto YouTube:
Poetry Reading by Christina Sng
Linda Addison interviews Christina Sng
Ordering information: http://rawdogscreaming.com/books/a-collection-of-dreamscapes/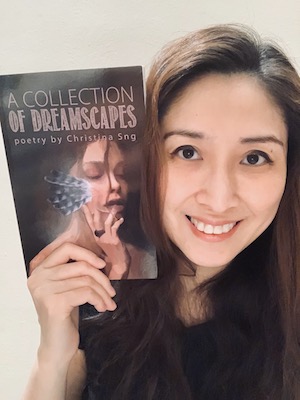 I'm overjoyed to read the many reviews that have come in and have added a selection to the Books page.
Here are a few:
"A Collection of Dreamscapes is exactly what I have come to expect from Christina: full of heart, personal, and powerful while opening up her view of the world to include a variety of different lenses and angles of approach."--Anton Cancre, Author and Reviewer
"Three words that describe this book: immersive, creepy, accessible. If you like the short stories of Carmen Maria Machado, you also need to try Sng." --Becky Spratford, Readers' Advisor
"This book reads like a dream, dark and fantastic. Danger in a sort of soft packaging. Multiple subtle brushes of the knife, no less deadly than the full on stab."--Well Read Beard, Reviewer
"The words on these pages are beautiful beyond measure, but they will also haunt you long after your close the cover."--Amanda Turner, Reviewer
"Christina Sng has done it again with beautifully haunting poetry that will immerse you in a waking dream."--Jackie Cowgill, Reviewer
"...truly an enchanting collection that you do not want to miss this year."--Sara Tantlinger, Bram Stoker Award-winning author of The Devil's Dreamland: Poetry Inspired by H.H. Holmes
"I loved this and it's going straight to my Keeper Shelf."--Yolanda Sfetsos, Reviewer
"Beautifully written poems reaching into the depths of darkness and pulling out the fleshy beating heart of our souls."--Intellectual Magpie, Reviewer
~ ~ ~ ~ ~ ~ ~ ~
LATEST RELEASES
29 April 2020: A special treat for friends who have read A COLLECTION OF DREAMSCAPES and loved the section Fairy Tales. Here's a poem I wrote for you in this month's Ladies of Horror Flash, titled "Little Four".
7 April 2020: My digital ink mixed media painting "The Arrival" in Star*Line 43.2. On sale now from the Science Fiction Poetry Association.
4 April 2020: Happy to see my haiku in The Cicada's Cry.
spring rain
my morning glories
bloom all day
1 April 2020: "Diamond Dust" appears in Abyss & Apex 74.
~ ~ ~ ~ ~ ~ ~ ~
RECENT SALES AND ACCEPTANCES
1 May 2020: "Mother of All Things" has sold to Spectral Realms #14.
22 April 2020: Happy to receive a Featured Poet invitation to the May 2021 issue of Scifaikuest. Included are joined poems "Inate", "The Offering", "Scars", "Anniversary Dinner", and scifaikuhorrorku "Dying", "Snow Hare", "The Need to Bite and Gnaw", "From the Helicopter", "The Strangest Things", and "Ocean Waves".
15 April 2020: My contemporary poem "Together" will be exhibited in The Fox Poetry Box!
8 April 2020: Haiku "gentle rain", "half moon", "lock down", and ink art "Hope", "To the Moon", and "Hunter's Moon" will appear in Akitsu Quarterly.
2 April 2020: "Metal Rain", "Venus", "The Conjurers", "The Price of Peace", and "A Paradigm of Magic" were sold to Penumbric.
2 April 2020: "spring rain" was selected for publication in The Cicada's Cry Spring 2020 edition.
1 April 2020: "Fondness for Cats", "Mesmerized", "The Strange Reality", "How Easy It Was", and "Three Moons Orbiting Earth" were sold to the February 2021 issue of Scifaikuest.
~ ~ ~ ~ ~ ~ ~ ~
For 2020 news, click here, 2019 news, click here, 2018 news, click here, 2017 news, click here, 2016 news, click here. For news between August 2014-December 2015, visit Archived News.
~ ~ ~ ~ ~ ~ ~ ~